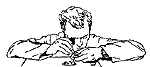 nick@clockmaker.com.au

60 second tutorial on early 1900's German Swinger (Mystery) clocks by Junghans
Here is my 60 second tutorial on how to tell the difference between an original German Swinger (Mystery) clock from cheaply made, mass produced Chinese fakes. Yes, some people call them "mystery-style", " Junghans-style", "reproduction", "Faithful reproduction", "antique styled", "novelty swingers" but the simple truth is that they are made do deceive, not to imitate, so I call them the fake swingers.

Known models: Diana, Onion boy, Cherub, Cherub with arrow, Boy with a bat, Athlete (Commemorating 1936. Berlin Olympic games ?), Barmaid, Elephant, Kangaroo, Statue of Liberty, "Elegance", "Stella", etc...
Breakng news [ October 19, 2002]
Unfortunately, position of the time setting button is no longer reliable point of identification! It has been brought this to my attention that first fake Chinese movements with a setting button positioned in the centre started to appear on eBay - see enclosed pictures below. [Thanks goes to Mr.Don DeMarcus]
Don't get caught by Chinese fakes!
"Dear Nick,
Well - I finally stripped down the "Onion Boy" and it is a fake. The jewelled settings I thought I saw on the back plate turned out to be double oil-sinks made of brass but the rocker bar is jewelled. The dial is held on by "Sticky Pads" fitted over the three Phillips screws which hold the movement into the case (clear indication of a forgery), the mainspring is not held in a barrel and the rear movement plate is held on by small nuts. The rear and front plates have been patinated to look much older than they are but everything between them - safely hidden from casual examination - is brand new... W.G., USA"

base
statue
clock, swinging arm
time setting button
winder
"J" symbol on dial
movement
run-down time
main spring
value
Original
1. ebonized wood (oak)
2. marble
spelter, patinated to look like bronze
brass
positioned in centre
both round and oval shape
dial: with or without "J" , movement: unmarked. Later clocks stamped "J" and "Made in Germany".
8-day duration
Main spring fitted in barrel
.
Fake
ebonized wood
1. brass
2. brass, patinated to look like bronze
brass
positioned off-centre
oval shape
wiht or without "J" on dial
3-day and 5-day duration
hooked on to pilar, no barrel
US$50- US$100

| | |
| --- | --- |
| Elephant, ca.1910. | Elegance, ca.1920. |

"Onion boy" - original and fake.


Position of the time setting button and winder.



Movement, original. (Back cover removed)
This movement is of 8-day duration; fake movements are made of both 3 and 5 day duration.

Fake movement and swinging arm recently appearing on eBay:

Original Junghans enamel dial, variations:

1. plain with Arabic numerals (not pictured)
2. Arabic numerals and "J" star
3. "Junghans Germany"
4. Roman numerals


Original Junghans movement parts

Swinging arm [Compound Pendulum] : Practical dimensions chart, timing: +5 sec/day. Total weight 255 gr.

| | |
| --- | --- |
| | Once you have the swinging arm completely overhauled and set in beat, set the regulating nut at the centre of its travel on treaded bar. Set the spacings as per enclosed picture. Time it out (remember: it is a compound pendulum: lower ball goes UP to make it run SLOWER). However if the timing error proves to be beyond the scope of the reg. nut, then look for weight alterations. If the clock is GAINING, you have to DECRERASE the weight in te lower ball to slow it down. |

Repair tip: Polishing of the swinging arm pivots

Movement-to-statue connection: reducing the friction

In order to "swing" properly, both swinging arm pins need to be perfectly shaped and polished. For the pin polishing I am using medium and fine grade Arkansas stone, with the final touch of 000 emery paper.

I am always interested in purchasing original Junghans Swinging clocks: complete or broken, in running order or not. Also statues, movement, dials and parts, Junghans advertising material and books.

I shop worldwide! For confidential and knowledgeable quotes on single item or whole collection please email me at nick@clockmaker.com.au


The text, images, and encoding of this document are copyright ©1997 - 2003 by N.Hacko. This document is licensed for private, noncommercial, nonprofit viewing by individuals on the Internet. Any other use or copying to republication in printed or electronic media, modification or the creation of derivative works, and any use for profit, is prohibited.