Born in Australia

Rebelde is the World's smallest watch brand, coming to life in 2013 as a project of Sydney-based watchmaker Nicholas Hacko. The rebelde project was not conceived as a brand to showcase the watchmaker's genius or his ability to produce watches, or even to fulfil a need for a mechanical timepiece.

It was born simply out of necessity for physical survival - the survival of a small, independent Australian watchmaker.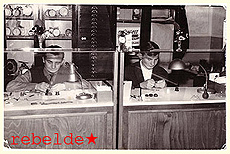 Nicholas Hacko is a third generation Master watchmaker. Like many of his colleagues, he has spent his entire life doing what he was trained for: repairing high grade mechanical watches.

Pre-owned watches

We are always interested in buying quality watches and are prepared to pay competitive prices for high grade mechanical watches. If you have a watch you wish to sell, please contact nick@clockmaker.com.au with a full description, overall condition, and your asking price. Queries are usually answered within a few hours.

High grade mechanical watches for sale
Check out our current stock of fine Swiss watches - we specialise in pre-loved brands like Rolex, IWC and Omega. In addition, we usually have Zenith and JLC watches in stock.
Our stock changes quickly, and the best way to get notified of new arrivals is to subscribe to our premium mailing list - email us for details. Don't think you're ready for Premium yet? Sign up to our free newsletter to get a taste of our premium newsletter and to stay informed on our latest arrivals.
Considering buying a new or pre-owned Rolex watch? Nick's Ten Rolex Buying Tips will save you a lot of anxiety before and after the event!