13th October
***From Apprentice Corner: My Top 10 Watch Videos
Something a bit different today - I thought I'd share with you some of my favourite watch videos on youtube. Narrowing it down to just 10 was no easy task, but I decided to choose those that display the genius, passion and perseverance that goes into watchmaking.
#1: Vacheron Constantin - Ref. 57260 - The Most Complicated Watch Ever Made
I can't tell you how many times I've watched this video. Hundreds of times, at least. The reference 57260 represents the absolute pinnacle of watchmaking. Only Vacheron Constantin (and possibly Patek Philippe), with over 200 years of accumulated expertise, could pull off such an incredible piece.
There is, and only ever will be, one of these pieces. Vacheron Constantin doesn't care how much money you've got (though you definitely need deep pockets), nor do they care how famous you are. They have to WANT to make a watch for you. We don't know who they made it for or how much it cost, and though I'll never get to see it in person I nonetheless consider it a real privilege to see the watch in action. Inspirational.
I've heard that Vacheron is working on something else, still a number of years away, which will top this. How do you beat perfection? I can't wait to find out.
#2: Patek Philippe 5175R Grandmaster Chime Watch
No explanation needed. Be prepared to pick your jaw up off the floor after witnessing only some of the work that went into this extraordinary piece.
#3 The Single Men - Masters of the Incredible and the Beautiful
Many of the greatest independent watchmakers and CEO's of larger companies are interviewed in this fascinating documentary. A must watch.
#4 Talking Watches With Roni Madhvani
Of all the people interviewed in Hodinkee's Talking Watches series, Roni Madhvani is most certainly the least well known. And yet, at least to me, his collection is by far the most interesting - but then again I'm a huge fan of watches with bizarre shapes and daring dials. I mentioned one of the watches he displays (the Patek 3412) in a previous book review, so it was exciting to finally see one ticking away. His collection is absolutely stunning and so very unique.
#5 Invenit et Fecit - A short documentary on F.P.Journe
F.P. Journe is a modern trailblazer. He's a truly rebellious watchmaker who has established an extremely successful brand while remaining completely independent. His watches aren't for everyone (though you really need to see one in person to get a proper idea of how nice they are), but they're completely distinct and can be mistaken for no other.
This documentary provides not only an interesting insight into the man himself but also a good overview of the nature of the industry over the years.
#6 Our Maison - "Beyond the gesture" by Jaeger-LeCoultre
I've never heard anyone say something bad about Jaeger-LeCoultre. They make my favourite watch - the Reverso (okay, equal favourite with the Rolex Prince); they're innovative, distinct and have a commitment to quality that is second to none.
#7 Clockwatch: The Daniels Wristwatch
Who was F.P. Journe's hero? George Daniels. This is the one name that we talk about constantly here. Simply put, George Daniels (1926-2011) was the greatest watchmaker since Abraham Louis-Breguet. Nick, Josh and I read through his seminal Watchmaking book almost every day (I'll do a review on that one in a couple of years when I finally manage to get a proper grasp on it all!), seeking answers, advice and guidance as we work towards manufacturing components right here in Sydney. This video is a nice little introduction into the legendary figure.
#8 Talking Watches With John Goldberger
Probably the next least-well known person Hodinkee has interviewed, John Goldberger is perhaps the most knowledgeable collector around. I previously reviewed one of his books and mentioned that the only reason you need to buy the book is because Mr. Goldberger produced it. He's such a cool character and one could listen to him talk for days. So cool, in fact, that he casually grabs a cheese knife, dusts it off on his jacket and then proceeds to bust open a two million dollar Rolex 4113 without a moment's hesitation.
#9 John Mayer On The IWC Big Pilot, Past And Present
I didn't want to include three videos from Hodinkee because I wanted to highlight some of the great content produced by other watch news sites, but alas, I'm a huge fan of both John Mayer and IWC so I just had to include this one. I guess I'll just have to make another list!
There's nothing overly interesting here, it's just a guy having a nice ol' chat about a brand and model he's super passionate about - something I myself love doing with other collectors. It's always a blast.
#10 Born To Design Franck Muller Watchmaking - SolidWorks
Franck Muller is a brand that is totally unafraid to push the boundaries in all aspects of watchmaking. Their designs are utterly unique and the mechanics within are always innovative and made to the highest standard. This video is especially of interest since we're also using SolidWorks to design our watches.
Until next time,
Tyler
3rd October
***Book Review
Vintage Rolex Sports Models - by Martin Skeet and Nick Urul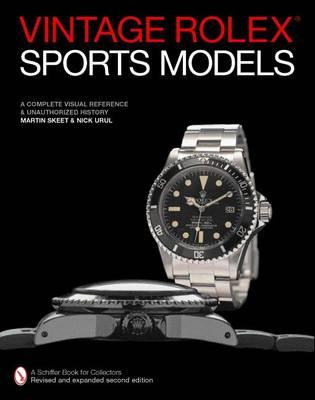 Vintage Rolex Sports Models, written by long time collectors and watch enthusiasts Martin Skeet & Nick Urul, is a comprehensive reference for any fan of Rolex sports watches. The 'sports' watches consists of the Submariner, Sea-Dweller, GMT-Master, Explorer, Turn-O-Graph and Cosmograph.
Each section begins with an overview of the history of the model, describing the catalysts that lead to its conception, design inspiration, choice of movement and even how it was marketed.
This is followed by each of the model's references listed out chronologically with even the minutest changes noted: font variations, case sizes, movements, bracelets, hands, finishes and everything else that could possibly differ is described.
My favourite section is without question the one on advertisements & literature. Full of pamphlets, magazine spreads and other advertising paraphernalia, it's a fascinating insight into how Rolex as a brand and watch innovations in general progressed over the years. It's rather amusing to read how watches were marketed in the 1940's-1990's: big bold statements like 'a diver's dream come true!' and 'Rolex conquers Everest!' were accompanied by long gushing testimonials from famous wearers and shameless self-promotion as to how damned good Rolex really is.
Need to confirm that you've got the right box? Check that the paperwork matches up? How do you make sense of the serial number? It's all here with accompanying photos that'll help you know exactly what you're dealing with.
The price guide section is, of course, obsolete now, but such information is best checked online anyway.
There is one thing that I feel detracts from the book, however. One of my favourite things about watch books is the beautiful photographs of the watches that make you want to pick up the book time and time again, regardless of whether you're interested in the information therein. Unfortunately, all the pictures of the models and their different references are seemingly just computer renderings. Good ones at that, but most of the watches look rather two dimensional and are without any of the 'character' that draws people to vintage Rolex.
In fairness, with over 140 models featured and some of them being exceedingly rare, the authors would have had a hell of a time trying to photograph them all. As well, some might see this as a good thing as it enables one to more clearly distinguish the different references, as some of the variations between them are quite subtle indeed. Nonetheless, I still think it would've been nice to have an actual picture or two in each section.
If you're a serious Rolex collector with a focus on their sports watch offerings then this book would surely prove to be a valuable asset. The book was published in 2002 so don't expect to see any information on watches produced thereafter. It is, after all, a vintage Rolex book, so if this is what you're after it should be perfect for you.
Watchmaker's FREE Mailing List: trusted by 6,000+ subscribers since 2001.

FACT: 35% of all watches offered for sale actually never reach this website - because they are sold to my existing customers and mailing list subscribers.
NEVER MISS A GREAT DEAL AGAIN!

From now on, you should be the first one to know. Whether you are looking for a TAG, Omega, Rolex, or Patek, you will be notified instantly whenever new stock arrives.